President Yoweri Kaguta Museveni who is also the Commander In Chief of the Uganda People's Defense Forces (UPDF)continues to encourage members of the army to emphasize patriotism, keep themselves healthy and continuous learning to seek for knowledge while executing their duties.
According to Gen. Museveni, officers should take the opportunity to not only go for more courses but to read more, adding that during the days of the National Resistance Army (NRA), they developed knowledge through constant reading.
"I hear that you spend a lot of knowledge on social media. Are you chatting with people who are knowledgeable or you're exchanging ignorance? If you take those three things seriously, you'll be very far," H.E Museveni said.
The President was today speaking at Uganda Military Academy Kabamba in Mubende district at the commissioning of a total of 295 officer cadets, intake 06 of 2023 short and three-year cadet course intake 02/2022-2023 from the UPDF Land and Air forces respectively.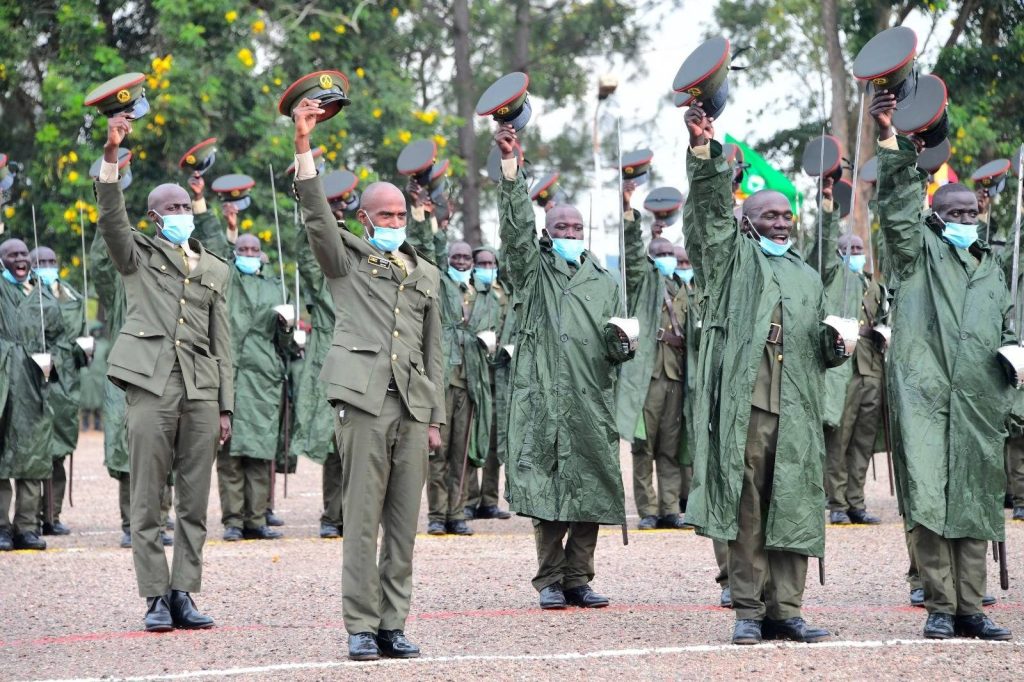 "I congratulate you on finishing the course and I wish you prosperous careers where you're heading," the President said, adding that the UPDF has now covered many aspects of national defense and now working on strengthening their presence in the space and more effort in consolidating the marine forces to cater for many parts of Uganda covered by fresh waters.
"Otherwise, the force is now becoming more and more comprehensive in terms of capacity to deal with all types of threats. And once we launch our satellite, it will reinforce what we already have, because what the satellite does, it gives you eyes from up. We have some eyes there but we can have more with the satellite," H.E Museveni added.
The Commander in Chief further said the young people are lucky to join the force which is advanced in development unlike the pioneers (abatembuzi) who did not have the facilities like now.
"The land forces, infantry, artillery, armoured, air-force are all developed now. Therefore, now that you're in this type of force, your future is bright. I'm very happy and congratulate everybody," H.E Museveni told officer cadets while reassuring them that even the issue of pay is now being addressed.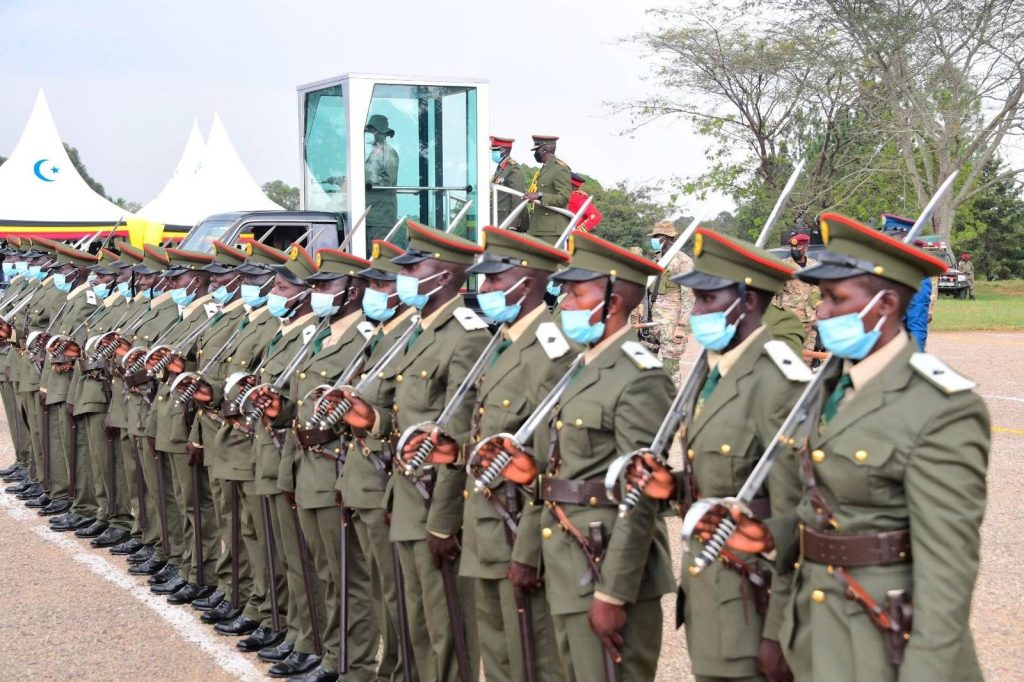 "Before the Generals retired, we decided that it's not correct for our long serving fighters to retire with inadequate support. That's why we insisted, and the government gave us the money and from the rank of Major going upwards, the pay has been improved and the retirement package. Therefore, working for the country in the armed forces should become easier for members of the UPDF," President Museveni assured the gathering.
His Excellency, the President also congratulated the parents for letting their children to join the prestigious institution of the UPDF but cautioned them not to bother their children in the forces by asking them for money.
He encouraged the parents to engage in wealth creation and fight poverty through among others practicing the four-acre model of farming in their homes and also take advantage of the shs100 million sent to each parish under the Parish Development Model (PDM).
"All the parents, we demand that you wake up so that you don't become a burden to these young officers. When they graduate you start bothering them to send you money instead of you helping them. Why? Because the parents are not using resources to get out of poverty. Uganda has good weather so it's not Godly to be poor," Gen. Museveni emphasized.
The Minister for Defense and Veteran Affairs, Hon. Vincent Bamulangaki Ssempijja encouraged officer cadets to work more closely together to defeat every threat against the nation.
"I encourage you to make the most of your service here wherever you will be required," Hon Ssempijja said.
The Chief of Defense Forces, Gen. Wilson Mbasu Mbadi said four of the students graduated from the Academies abroad in Kenya, Jamaica, and the Royal Military Academy Sandhurst. Gen. Mbadi applauded President Museveni for his strategic and visionary leadership that has led to the UPDF grow into a professional, effective, efficient and accountable force that is anchored on strong civil military relationship, Nationalism, Patriotism, Pan Africanism and ideological awareness to achieve its missions as enshrined in article 209 of the constitution of the republic of Uganda in order to create an environment that is conducive to achieving social economic transformation.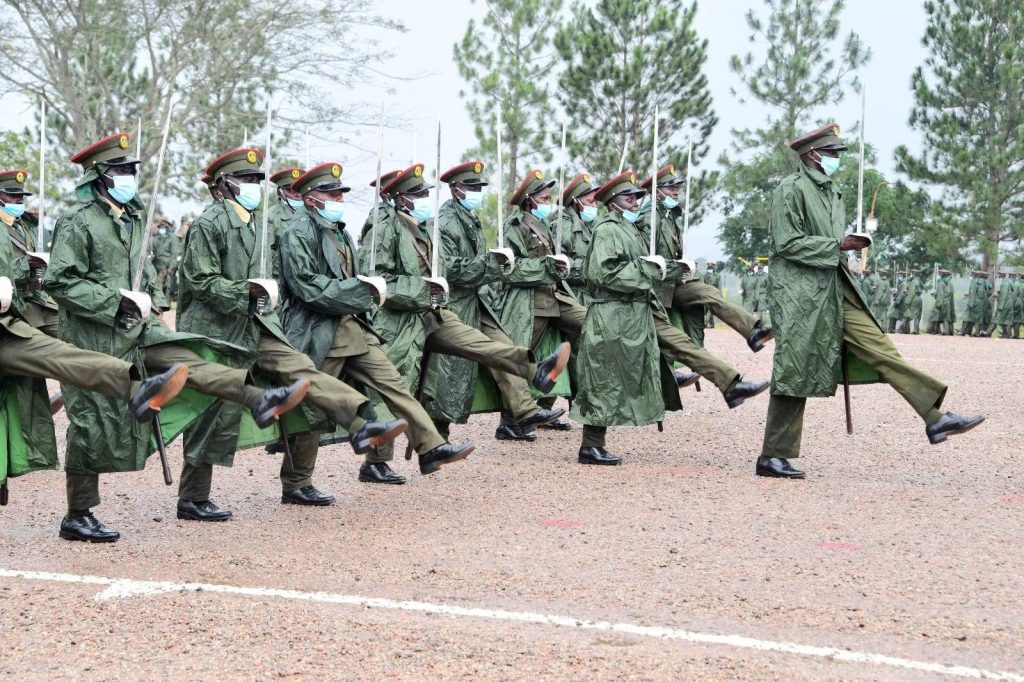 He further informed the President that they're working to ensure Uganda Military Academy achieves a centre of excellence status for cadet training not only for Uganda but also for regional partner states.
"One of the requirements particularly for Uganda Military Academy was to introduce a three-year cadet graduate course in line with the East African Community partner states academies as required by the East African community defence and cooperation protocols," Gen. Mbadi said.
He called upon newly commissioned officer cadets to be aware of the security challenges faced by the countries in the region ranging from cyber threats, terrorism, transnational threats, insurgency among others.
"Therefore, you must be ready to effectively be part of the solution to these challenges. For this purpose, the officer cadet training that you have completed, prepared you to be better defenders of peace and security within the country and the region as a whole against any negative forces," Gen. Mbadi told the officers.
He further called upon cadets to observe ideological consciousness and discipline which is the foundation of UPDF, loyalty and integrity which brings honesty and truthfulness.
According to the Commandant of Uganda Military Academy Kabamba, Col. Wycliff Keita, of the 295 officer cadets with 32 lady cadets, a total of 236 cadets are drawn from UPDF specialized departments of medical, ICT, Engineering, Airforce, Education, Finance, Legal services and procurement among others who represent the quality of the young generation of citizens that are taking a patriotic choice to serve their country under the UPDF.
The professional cohort consists of 4 postgraduates, 129 graduates and 103 diploma holders some from Kenya, Rwanda, South Sudan and Tanzania.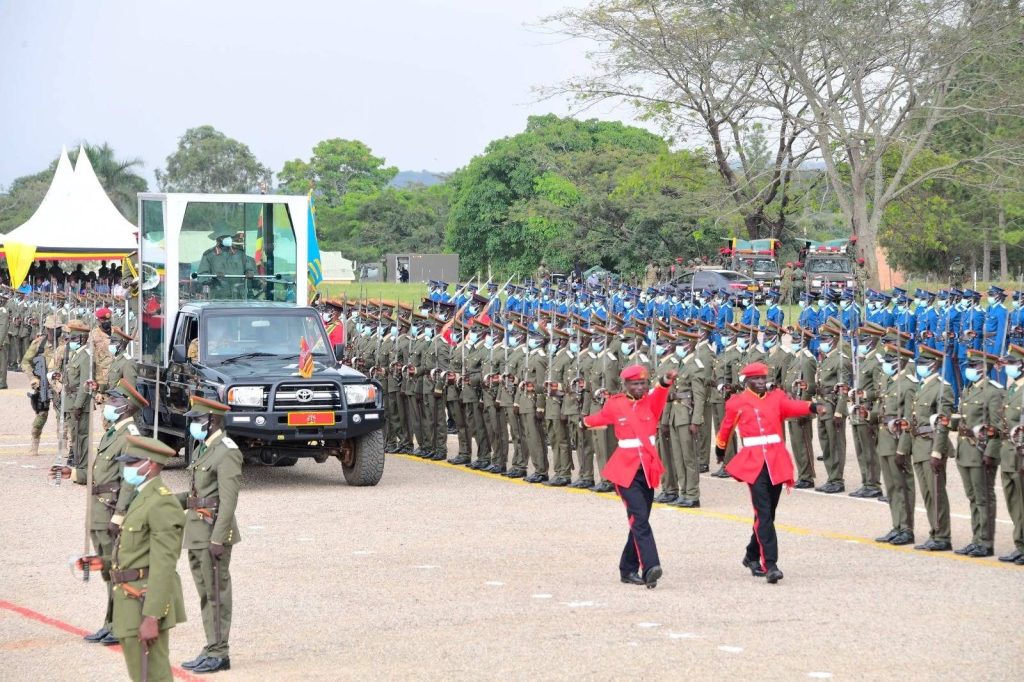 "They have been trained in military knowledge and skills but also exposed to political economy and the symbiosis of our responsibility in the wider social, economic, informational and diplomatic spheres of state power. Accordingly, they have been inducted in the enduring struggle of seeking wise to adopt and innovate to keep the Uganda People's Defence Forces ahead of the curve," Col. Keita said.
Col. Keita further expressed confidence that having successfully completed a blend of officer cadet training, the officers have been ideologically nurtured to love and serve their country and Africa, saying that they are highly qualified, patriotic and willing to serve.
"You're still young, we encourage you to stay fit, healthy and embrace learning. Do not forget our core values of discipline, royalty, duty and honour as you follow the footsteps of many of our heroes that span different phases our country has traversed to achieve the current peace, stability and respect," the commandant told officers, reminding them of their mission to guard freedom and protect Uganda from harm.
"Going forward, you'll carry the hopes of the country on your shoulders. Fight fiercely and ethically to defend this country that we love so much," he added.
At the same ceremony, the best officer cadets in class, field work, discipline and leadership were awarded. They also took an oath of allegiance and secrecy to be faithful to the Sovereign State of Uganda and to Preserve, Protect and defend the Constitution.
The colourful ceremony was characterized by a match in slow and quick motion led by the Director of Music in the UPDF, Col. W. Moses Ssentongo.
The ceremony was attended by among others the Minister of State for Defense and Veteran Affairs in-charge of veterans, Hon Oleru Huda, Senior UPDF officers, Mubende District leaders, Service chiefs, Defense Attaches and Defense representatives from South Sudan, Rwanda and Kenya.