President Museveni who is also the commander in chief of the Uganda People's Defense Forces (UPDF) has urged the forces to emphasize the ideology of Patriotism while serving the people of Uganda.
"Don't look at the army as a source of jobs. Yes, it might be a job but also there's service to the country," Gen. Museveni said, reminding them that they succeeded in building a strong army because of being patriotic and working without pay.

"Remember that at one time, some of us who were serving the country were not being paid. We were working for patriotism only. But in your case things are easier. You can work for patriotism but also be paid for that," H.E Museveni noted.
He made the remarks today while passing out a total of 391 trainees who have successfully completed their training in platoon commander and armoured basic crew courses at the Armoured Warfare Training School- Karama in Mubende district.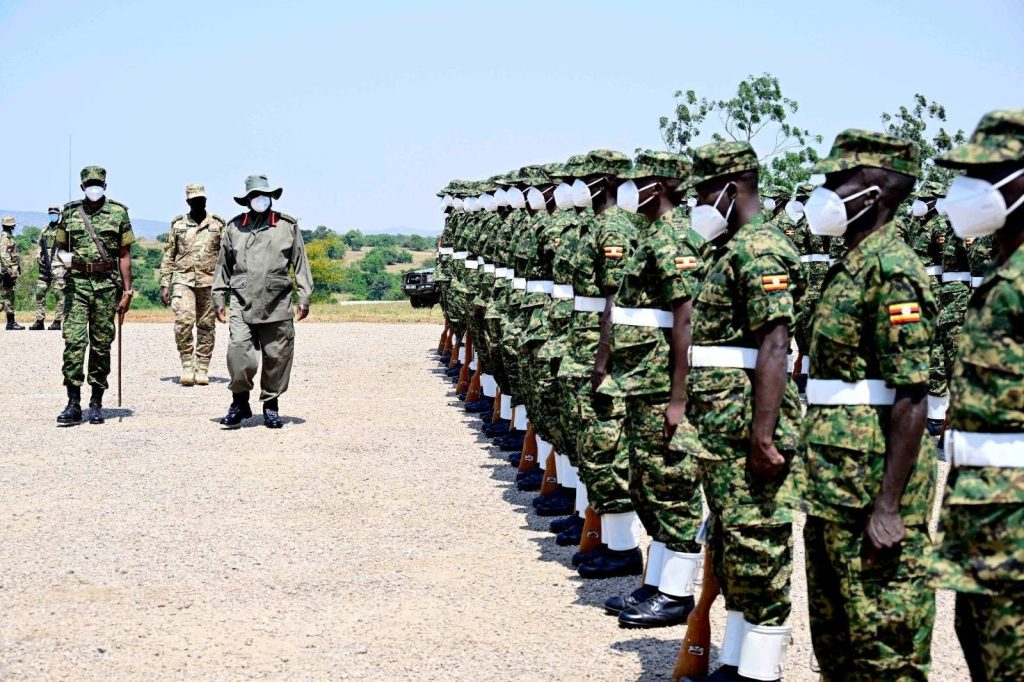 Of these, 55 personnel of which 5 are female completed their 1-year Armoured Platoon Commander course while the 336 out of which 27 are female completed the 6 months Armour basic crew course.
The Commander in Chief also called upon the graduates to continue learning about warfare, saying building the force was due to the continuous learning.

"When you see what's going on in parts of Africa, you wonder whether these people are trained. Why do you have soldiers who don't plan for their country? We were able to build the NRA/ UPDF because we were studying. That's why we were able to build up the force from nothing," Gen Museveni stressed, not forgetting discipline which has kept UPDF on top.

"I want to tell you that your future is bright because you are now entering a very disciplined force-the UPDF. You need to be disciplined, you will go very far," H.E Museveni said.

The Chief of Défense Forces Gen. Wilson Mbasu Mbadi emphasized the relevance of the course in modern warfare, saying it's a vital and regular member of the combat support to the field commander because it brings decisive objectives due to its high mobility, superior fire power, protection and shock action characteristics, thus enabling quick means of achieving the ultimate objective which is destruction of the enemy.
He said Karama Armoured Warfare Training School is currently the only training centre "for exposing our young soldiers to the proficient tactics and employment of armour. We'll keep emphasizing that the machine is as good as its operator".

He encouraged the graduates to always remember the core values on which the UPDF is built namely; discipline, teamwork, integrity, love for knowledge, patriotism, frugality among others and to observe the UPDF code of conduct by maintaining a positive relationship between the army and the public.
"You must also keep healthy and fit for the purpose for which we have recruited you and for your wellbeing. Stick to those and the sky will be the limit," he noted.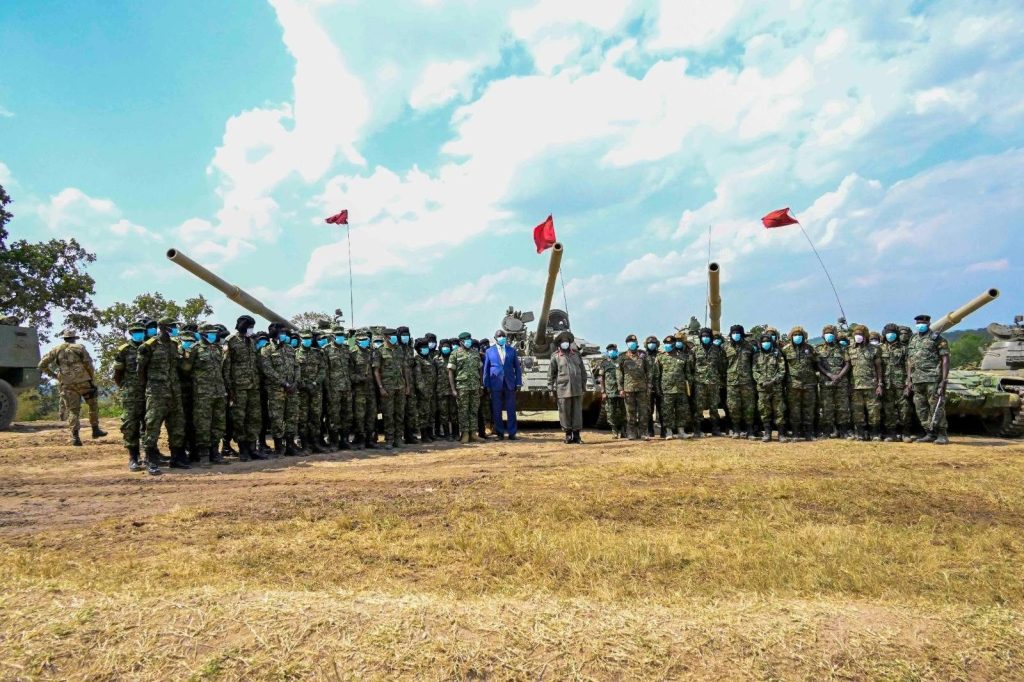 He informed the President and the gathering that a total of 6.8 billion shillings has been earmarked for training institutions including construction of the tank gunship at Karama Training school.
The commandant of Karama Armoured Warfare Training School Brig Gen Peter Chandia informed the President that the course objectives have been achieved.

These include among others; Develop individual crew member skills and proficiency in gunnery and driving, develop single weapon crew coordination skills necessary for operation, Producing Armor platoon commanders who are well prepared to offer leadership to Armor platoons and to impart to the platoon commanders.
The Minister for Defence and Veteran Affairs Hon. Vincent Ssempijja urged the graduates to put to good use the acquired knowledge for long term stability and security.
"The completion of this course is not just about you. It is also about the love for your motherland Uganda and its long-term stability. I want to inform you that strengthening the security of our nation is only possible through well trained and educated military personnel that are able to meet the security demands," Hon Sempijja said.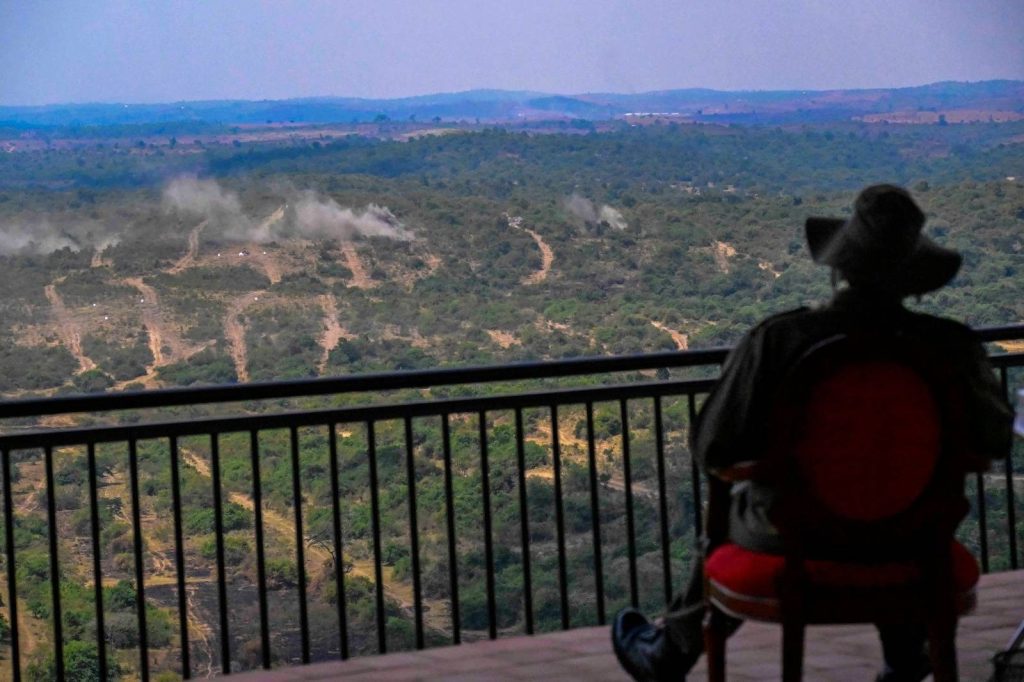 Karama Armoured Warfare Training School is the premier UPDF institution for training and developing armour commanders, Armor crews, Armor instructors, Armor technicians and Armor maintenance personnel.

The school also conducts refresher and pre-deployment mission training to Armor sub-units and Armor components that are part of battle groups with the aim of enhancing their lethality and functional capabilities to execute combined arms land operations.
The ceremony was attended by among other Members of Parliament, Service commanders, Officers and militants of the armoured warfare training school, Religious and local leaders.
ENDS